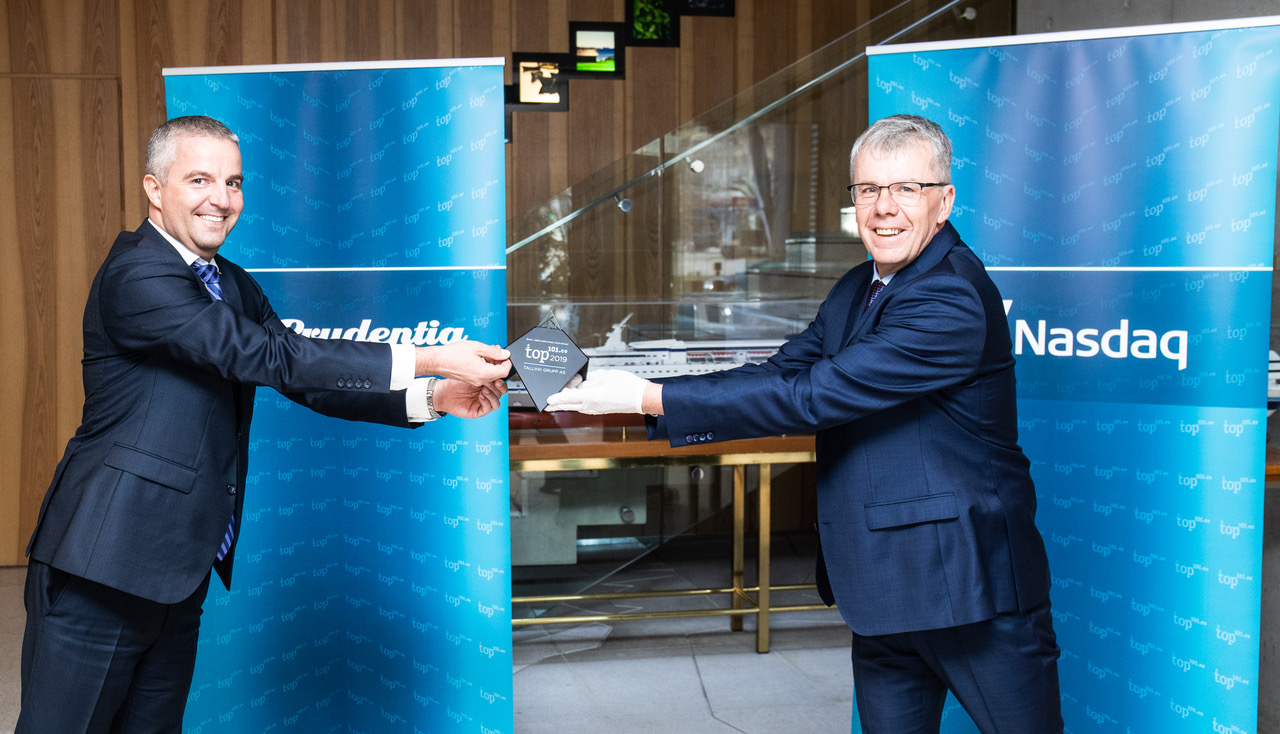 From the left: Paavo Nõgene (CEO at Tallink Group), Illar Kaasik (Managing Partner at Prudentia) | Photo by Priit Simson
On 8th April 2020, Prudentia and Nasdaq Tallinn, in collaboration with Eesti Ekspress, published the ranking of TOP 101 most valuable enterprises in Estonia. See here for the special show marking the announcement.
According to Illar Kaasik, managing partner at Prudentia, the goal of the project is to evaluate the most valuable companies in Estonia over a longer period of time and therefore create a collection of information valuable to Estonian entrepreneurs and the public, that helps to understand the mechanisms underpinning the functioning of the Estonian economy and places value on the role of entrepreneurs in society. "The winner of the 2019 TOP 101 is Tallink – an enterprise that employed more than 7200 people at the end of 2019. Congratulations to the winner and the TOP 101 most valuable enterprises in Estonia! On behalf of myself, I'd like to wish the companies wise decisions and strong entrepreneurial will in getting through the Covid-19 crisis ahead," said Illar.
"We are of course very pleased that we are at the very top of this first-ever ranking in Estonia of the most valuable companies – I believe it will provide support and motivation to all our company's employees during this challenging time and inspire us to work even harder for the future," said Paavo Nõgene, CEO at Tallink Grupp. "However, it must also be said, that this ranking comes at an extraordinary time, when most Estonian companies are experiencing an unprecedented survival course and none of us is able to predict what this ranking will look like not only next year, but already in the next few months. But the place of a company in any ranking is not of utmost importance right now. What is important is that we will come out of this crisis successfully and that we work together to ensure we get Estonia's economy back on its feet again. Tallink will do everything in its power to contribute to this as much as possible as we have always done."
Kaarel Ots, CEO at Nasdaq Tallinn, has highlighted the importance of focusing on the driving engines of our economy, even in a crisis. "The most immediate mechanism to get feedback on enterprise value is of course the stock listing, however the first and essential step in analysing and understanding enterprise value is a data set such as the TOP 101."
There are people behind every successful enterprise and, however devastating the setbacks, it is those ambitious people who are largely responsible for new or recovering companies. Future TOP 101s will offer moral support, inspiration and recognition to entrepreneurs who today are on the front line of the economy, fighting for the survival and independence of their companies, employees, business partners and the entire Estonian state and people," said Kaarel Ots.
The complete listing of the top 101 most valuable enterprises in Estonia in 2019 can be accessed at www.top101.ee. A comprehensive introduction to the ranking, alongside additional material and interviews was also published in the business journal Magnaat, issued by the editorial team at Eesti Ekspress.